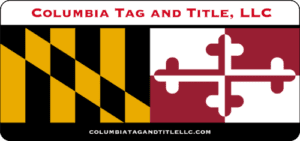 Registration Renewal Service in Columbia Maryland
Columbia Tag & Title, LLC will provide immediate renewal registration for one or two years. Fast and Easy-To-Use Registration Renewal Service Licensed by the Maryland MVA. Get back on the road in no time. Our customer care team can help resolve registration suspensions, insurance issues, expired tags, stickers & tickets, effortlessly.
Get Your Tag and Title Under 10 Minutes or Less
Did you purchase a new or used car? Did you move from another state and looking to register your vehicle in the State of Maryland? If that's the case, Then  you will likely need to apply for a new tag. In the state of Maryland, It is required by law that all Maryland residents possess proper titles and tags for all of their vehicles.
At Columbia Tag & Title, LLC we can help you get tags for the following:
New or Used vehicles
New Vehicles to the State of Maryland
Replacement of Lost or Stolen tags
The process can take 4-5 hours at the MVA, but we can expedite the process and issue your tags in less than 10 minutes. Our well-trained and knowledgeable staff provides excellent customer service, from simple MVA questions to complicated MVA transactions.
PLEASE FILL OUT THE FORM BELOW AND ONE OF OUR AGENTS WILL CONTACT YOU SHORTLY
We will be happy to answer any questions or give you advice about any matter! Please complete the form to receive the requested information without further obligations. We respect your privacy 100%, so the information you provide will remain confidential. Nevertheless, a copy of your message might be stored in our records for archival purposes. ~ Columbia Tag and Title, LLC is located in Columbia, Maryland
Columbia Tag and Title
9110 Red Branch Rd Suite N, Columbia, MD 21045
(443) 468-8503
Give us a call
info@columbiatagandtitlellc.com
Email support